The metal Ganesha idols in our collection will lend a sense of spirituality and refinement to any interior. Using high-quality metal, these exquisitely carved statues will last for generations. Our Antique Ganesha idols can offer good fortune and happiness to anywhere. You put them, be it a desk, shelf, or automobile dashboard.
Metal Ganesha idols can be an elegant and spiritual addition to any room. But whether or not they actually bring good fortune is up to the individual worshipping them. While the presence of a metal Ganesha statue might provide spiritual solace and strength to believers. Its beauty and skill can also be appreciated by those who aren't very religious. The Ganesha idol can serve as a gentle reminder that the power of optimism and prosperity lies within one's own thinking and deeds.
Meaning of Metal Standing Ganesha Guitar
A metal Ganesha guitar that stands might signify different things to different people. Combining the deity of Lord Ganesha with the artistry of music may represent, to some, the union of spirituality and artistic expression. In the same way that Lord Ganesha is revered for clearing the way for his devotees, this image may also be seen by some as a symbol of bursting through boundaries and achieving one's goals. The ultimate significance of this one-of-a-kind work depends on the viewer's individual reaction to it.
How to Improve the Metal Wire Ganesha Set of 4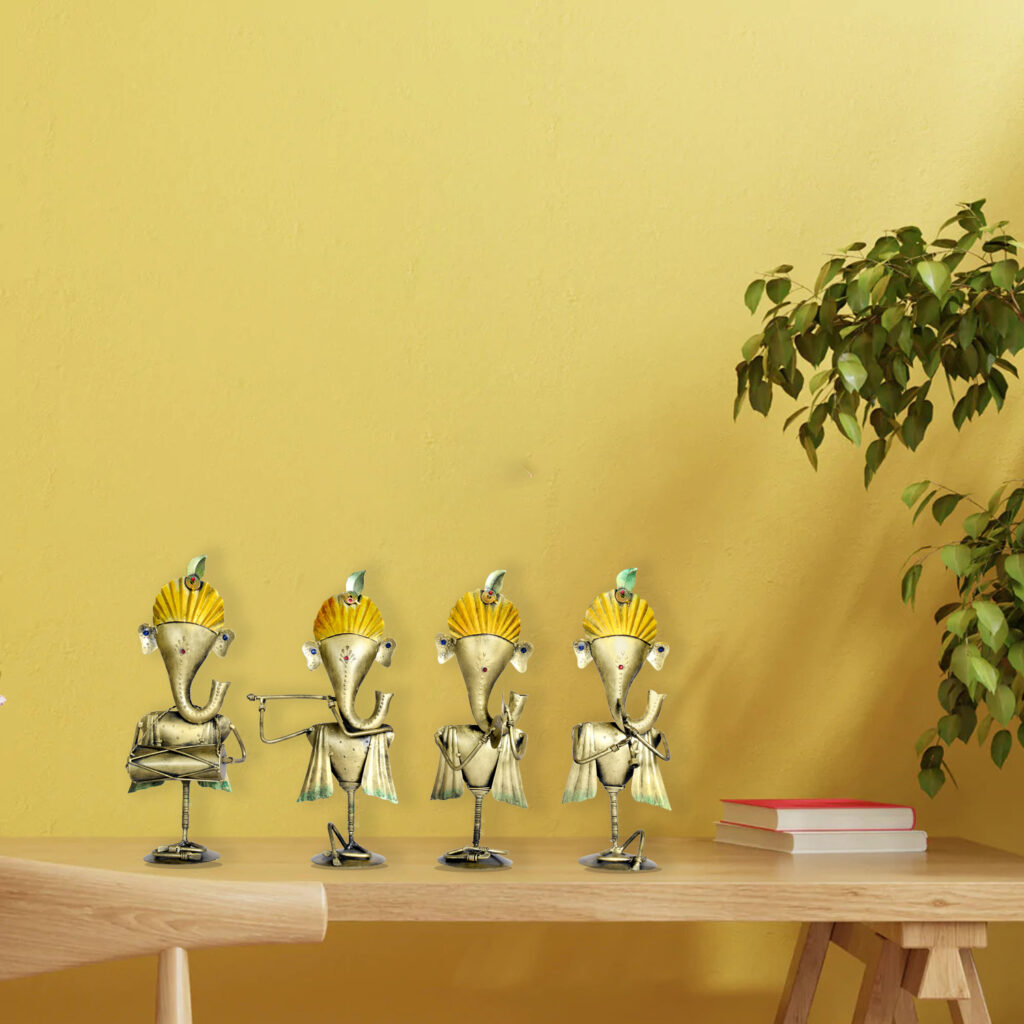 Recognizing the value of this piece of art? Studying the mythology and background of Lord Ganesha is one technique to gain insight. Understanding his history as a figure who helps people get off the ground will help you make sense of this work. In addition, learning about the artist's motivations and methods might help clarify the meaning of the piece. One can gain a deeper appreciation for art by discussing it with others and hearing their thoughts. People can strengthen their emotional attachment to and comprehension of this. One-of-a-kind work by devoting time and energy to learning and exploring.
Metal Lord Ganesha Wall Decor Art With LED
Metal Lord Ganesha Wall Decor Art With LED
When confronted with a work of abstract or conceptual art, where the message may not be immediately clear, this strategy can be particularly useful. Viewers can learn more about the relevance of the work and the artist's aims if they investigate the artist's history and inspirations. It is also possible to gain insight into the social issues or concerns that a work of art may be addressing by investigating its historical and cultural background. In general, one's experience of and emotional investment in a work of art can benefit from taking a multifaceted approach to interpreting it.
Beauty of home Metal Black Ganesh Diya
Increases one's admiration for artwork by giving it a fresh, contemporary spin on old favourite. LED lights embedded in sculptures or paintings produce a spellbinding appearance. That draws in the observer and gives them a new perspective on the piece. The Metal Black Ganesh Diya is a perfect example of how modern technology may be used to enhance. The aesthetic value of an object like this and highlight the artist's purpose to highlight this beauty. The artist highlights the importance of light and spirituality in daily life by combining LED lights into this traditional Diya, asking spectators to reflect on their own cultural and spiritual roots.